I have not talked about the ARCs I added to my virtual shelves in three months and while I did not request as many ARCs as I have done in the past, I have acquired a few and want to talk about them.
Still to be read:
Vita Nostra by Sergey & Marina Dyachenko
Publication Date: November 1st, 2018
Publisher: HarperVoyager
Blurb (from Goodreads): The definitive English language translation of the internationally bestselling Ukrainian novel—a brilliant dark fantasy with "the potential to be a modern classic" (Lev Grossman), combining psychological suspense, enchantment, and terror that makes us consider human existence in a fresh and provocative way.
Our life is brief . . .
While vacationing at the beach with her mother, Sasha Samokhina meets the mysterious Farit Kozhennikov under the most peculiar circumstances. The teenage girl is powerless to refuse when this strange and unusual man with an air of the sinister directs her to perform a task with potentially scandalous consequences. He rewards her effort with a strange golden coin.
As the days progress, Sasha carries out other acts for which she receives more coins from Kozhennikov. As summer ends, her domineering mentor directs her to move to a remote village and use her gold to enter the Institute of Special Technologies. Though she does not want to go to this unknown town or school, she also feels it's the only place she should be. Against her mother's wishes, Sasha leaves behind all that is familiar and begins her education.
As she quickly discovers, the institute's "special technologies" are unlike anything she has ever encountered. The books are impossible to read, the lessons obscure to the point of maddening, and the work refuses memorization. Using terror and coercion to keep the students in line, the school does not punish them for their transgressions and failures; instead, their families pay a terrible price. Yet despite her fear, Sasha undergoes changes that defy the dictates of matter and time; experiences which are nothing she has ever dreamed of . . . and suddenly all she could ever want.
A complex blend of adventure, magic, science, and philosophy that probes the mysteries of existence, filtered through a distinct Russian sensibility, this astonishing work of speculative fiction—brilliantly translated by Julia Meitov Hersey—is reminiscent of modern classics such as Lev Grossman's The Magicians, Max Barry's Lexicon, and Katherine Arden's The Bear and the Nightingale, but will transport them to a place far beyond those fantastical worlds.
Why I requested it: I love Russian literature and this one sounded right up my alley. And then my slump hit.
The Winter of the Witch by Katherine Arden
Publication Date: January 10th, 2018

Publisher: Penguin Random House/ Ebury Publishing
Blurb (from Goodreads): One girl can make a difference…
Moscow has burned nearly to the ground, leaving its people searching for answers – and someone to hold accountable. Vasya finds herself on her own, amid a rabid mob that calls for her death, blaming her witchery for their misfortune.
Then a vengeful demon returns, renewed and stronger than ever, determined to spread chaos in his wake and never be chained again. Enlisting the hateful priest Konstantin as his servant, turmoil plagues the Muscovites and the magical creatures alike, and all find their fates resting on the shoulders of Vasya.
With an uncertain destiny ahead of her, Vasya learns surprising truths of her past as she desperately tries to save Russia, Morozko, and the magical world she treasures. But she may not be able to save them all…
Why I requested it: Of course I did. I adored the first two books in the series and have eagerly awaited the final book. I even mailed the publisher to make sure I receive a copy.

When I Had A Little Sister by Catherine Simpson
Publication Date: February 7th, 2019
Publisher: Harper Collins/ 4th Estate

Blurb (from Goodreads): When I had a Little Sister is a memoir about a Lancashire farming family, whose love of their land came hand in hand with the resilience to live off it. It's a story of sisters and sacrifice, grief and reclamation, and of the need to speak the unspeakable.
When did she decide to die? Was it before midnight on Friday the 6th, because she couldn't face another night or was it before dawn on Saturday the 7th because she couldn't face another day?
Did she think about us? Did she think about her dog, Ted, or her cat, Puss, sleeping on Grandma Mary's old sofa in the conservatory and who would be waiting for her to feed them in the morning? What about her horses in the stable? Did she think about them? Did she imagine Dad finding her? It would have to be Dad, after all. It couldn't be anyone else.
Did she know what she was doing?
On a cold December day in 2013 Catherine Simpson received the phone call she had feared for years. Her little sister Tricia had been found dead in the farmhouse where she, Catherine and their sister Elizabeth were born – and where their family had lived for generations.
Tricia was 46 and had been stalked by depression all her life. Yet mental illness was a taboo subject within the family and although love was never lacking, there was a silence at its heart.
After Tricia died, Catherine found she had kept a lifetime of diaries. The words in them took her back to a past they had shared, but experienced so differently, and offered a thread to help explore the labyrinth of her sister's suicide.
Why I requested it: I love memoirs and I love stories about siblings, this was a no-brainer for me.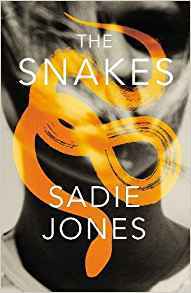 The Snakes by Sadie Jones
Publication Date: March 7th, 2019
Publisher: Random House/ Vintage
Blurb (from Goodreads): 'I wonder if it hurts them to shed their skins,' she said. She didn't feel afraid standing in the darkness, imagining snakes, even with the smell of death in the air.
Bea and Dan, recently married, let out their tiny flat to escape London for a few precious months. Driving down through France they visit Bea's dropout brother Alex at the hotel he runs in Burgundy. Disturbingly, they find him all alone and the ramshackle hotel deserted, apart from the nest of snakes in the attic.
When Alex and Bea's parents make a surprise visit Dan can't understand why Bea is so appalled, or why she's never wanted him to know them; Liv and Griff Adamson are charming, and rich. They are the richest people he has ever met. Maybe Bea's ashamed of him, or maybe she regrets the secrets she's been keeping.
Tragedy strikes suddenly, brutally, and in its aftermath the family is stripped back to its heart, and then its rotten core, and even Bea with all her strength and goodness can't escape.
Why I requested it: Will you judge me if I admit that this was a cover request? I mean, just look at it! The first line of the blurb then convinced me I definitely need this in my life.

Do You Dream Of Terra-Two? by Temi Oh
Publication Date: March 7th, 2019
Publisher: Simon & Schuster UK
Blurb (from Goodreads): The Long Way to a Small, Angry Planet meets The 100 in this unforgettable debut by a brilliant new voice.
A century ago, scientists theorised that a habitable planet existed in a nearby solar system. Today, ten astronauts will leave a dying Earth to find it. Four are decorated veterans of the 20th century's space-race. And six are teenagers, graduates of the exclusive Dalton Academy, who've been in training for this mission for most of their lives.
It will take the team 23 years to reach Terra-Two. Twenty-three years spent in close quarters. Twenty-three years with no one to rely on but each other. Twenty-three years with no rescue possible, should something go wrong. And something always goes wrong.
Why I requested it: I seriously adore the title. It also sounds like a closed room sci-fi novel with a sociological heart, which is my jam.
The Old Drift by Namwali Serpell
Publication Date: March 21st, 2019
Publisher: Random House UK/ Vintage Publishing
Blurb (from Goodreads): On the banks of the Zambezi River, a few miles from the majestic Victoria Falls, there was once a colonial settlement called The Old Drift. Here begins the epic story of a small African nation, told by a mysterious swarm-like chorus that calls itself man's greatest nemesis. The tale? A playful panorama of history, fairytale, romance and science fiction. The moral? To err is human.
In 1904, in a smoky room at the hotel across the river, an Old Drifter named Percy M. Clark, foggy with fever, makes a mistake that entangles the fates of an Italian hotelier and an African busboy. This sets off a cycle of unwitting retribution between three Zambian families (black, white, brown) as they collide and converge over the course of the century, into the present and beyond. As the generations pass, their lives – their triumphs, errors, losses and hopes – form a symphony about what it means to be human.
From a woman covered with hair and another plagued with endless tears, to forbidden love affairs and fiery political ones, to homegrown technological marvels like Afronauts, microdrones and viral vaccines – this gripping, unforgettable novel sweeps over the years and the globe, subverting expectations along the way. Exploding with colour and energy, The Old Drift is a testament to our yearning to create and cross borders, and a meditation on the slow, grand passage of time.
Why I requested it: I have never read a book by an author from Zambia. But mostly this sentence from the blurb: "A playful panorama of history, fairytale, romance and science fiction." I also have the sneaking suspicion that this will make the Women's Prize for Fiction longlist (I don't even know why I think that, months in advance without having read a single review, but, hey it is what it is) which I am planning on reading next year and I want to have a head start.
Doggerland by Ben Smith
Publication Date: April 4th, 2019
Publisher: Harper Collins UK/ 4th Estate
Blurb (from Goodreads): Doggerland is brilliantly inventive, beautifully-crafted and superbly gripping debut novel about loneliness and hope, nature and survival – set on an off-shore windfarm in the not-so-distant future.
'His father's breath had been loud in the small room. It had smelled smoky, or maybe more like dust. 'I'll get out,' he'd said. 'I'll come back for you, ok?' The boy remembered that; had always remembered it. And, for a time, he'd believed it too.'
In the North Sea, far from what remains of the coastline, a wind farm stretches for thousands of acres.
The Boy, who is no longer really a boy, and the Old Man, whose age is unguessable, are charged with its maintenance. They carry out their never-ending work as the waves roll, dragging strange shoals of flotsam through the turbine fields. Land is only a memory.
So too is the Boy's father, who worked on the turbines before him, and disappeared.
The boy has been sent by the Company to take his place, but the question of where he went and why is one for which the Old Man will give no answer.
As the Old Man dredges the sea for lost things, the Boy sifts for the truth of his missing father. Until one day, from the limitless water, a plan for escape emerges…
Doggerland is a haunting and beautifully compelling story of loneliness and hope, nature and survival.
Why I requested it: The cover caught my eyes and then the description caught my attention. Then I saw that the author has published a poetry collection before. And then I couldn't resist anymore. I will have to read it soon though because the year is nearly over and then I will only be reading books written by women and non-binary authors.
Finished and Review to come
The Outcast Hours ed. by Mahvesh Murad and Jared Shurin
Publication Date: February 22nd, 2019
Publisher: Rebellion
Blurb (from Goodreads): We live our lives in the daylight. Our stories take place under the sun: bright, clear, unafraid.
This is not a book of those stories.
These are the stories of people who live at night; under neon and starlight, and never the light of day.
These are the stories of poets and police; writers and waiters; gamers and goddesses; tourists and traders; the hidden and the forbidden; the lonely and the lovers.
These are their lives. These are their stories. And this is their time:
The Outcast Hours.
Why I requested it: I enjoyed the authors previous anthology and this one is even more star-studded. I did not quite like this as much as the previous book but would still recommend it to fans of short story anthologies.
Have you read any of these or have arcs for them? Which one are you most excited about?